I believe you are actually correct on this one...
Even a blind squirrel finds a nut from time to time.
But gas prices are much more important to our economy than just our cars. Gas prices affect every aspect of the economy, from the price of oranges to tennis shoes. It makes everything cost more when gasoline prices go up.
We are in a global economy where demand for gasoline in India and China affects us in America. The only way to to lower prices is to pump more oil, or wait for the economy to slow down and go into recession. See the chart below- the spike up and the free fall down. That free fall was the great recession.
The last recession was caused by a spike in oil prices to $150/barrel. It caused companies to cut jobs and raise prices which in turn- caused more companies to lay people off. The large spike of layoffs caused a huge spike in mortgage defaults, which caused the housing crash. The USA was losing 800,000 jobs per month.
There is a potential for the same thing to happen again, and the spike could exceed $150/barrel. This would shut down the US economy!
Here is a chart that shows the spike- which was caused by strong world wide demand and limited supply...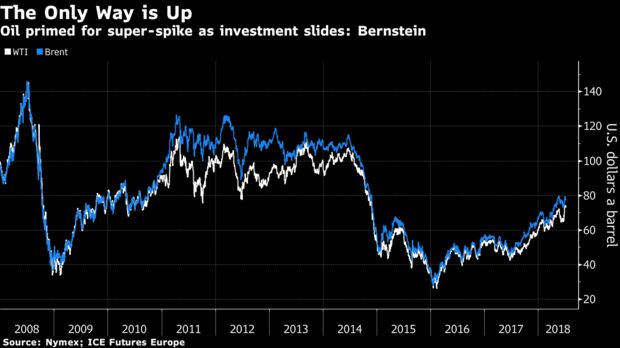 Ask yourself this question sport... Without the tax cuts and Trump's policy of pumping more oil- we would really be screwed right now. So- Thank You Trump again!!
Quote:
The oversupply of crude globally in recent years has masked "chronic underinvestment," Bernstein said in the report. Oil has rebounded to the highest in more than three years as the Organization of Petroleum Exporting Countries and its allies started curbing output at the beginning of last year to trim a global glut. The producers aim now to pump more to help cool the market, but disruptions from Libya to Venezuela are keeping prices elevated.