Tarryall wrote:
The experts are now doubting Kim's hydrogen bomb claims, think it is just a normal a-bomb.
I'm not sure that's credible.
Quote:
Paul Richards is the guy you call when you need someone to decipher nuclear seismic signatures, and he's been busying divining those telltale nuclear scribbles detected in North Korea this past weekend.

Richards is a special research scientist at Columbia University's Lamont-Doherty Earth Observatory. He's riffled through the data of nuclear seismic data in years past and called out other researchers who credited the North Korean regime with nuclear blasts.

His takeaway: This weekend's North Korean nuke was a real blockbuster. "The explosion appears to be the largest since China surprised the world with a magnitude 6.5 nuclear test in May 1992—more than 25 years ago," he said in an email. "The main point: this was a huge explosion, probably hundreds of kilotons, and larger than any of those conducted by the Soviet Union and the United States since 1976."

According to Richards, the largest underground nuclear explosions at Soviet Union test sites produced magnitude 6.1 tremors. This test had a larger magnitude at about 6.3—measured by hundreds of seismic stations reporting to the United States Geological Survey.

"Tentatively, I'd put today's test at around 250 kilotons with a factor of uncertainty around 2 until we get better information on the depth at which it was carried out," Richards said.
(full article)
http://www.popularmechanics.com/military/weapons/news/a28057/north-korea-nuclear-test-expert/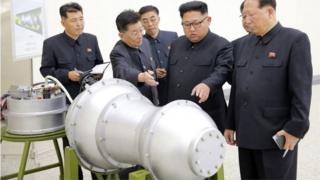 Looks like it could be in a two-stage device in a Teller-Ulam configuration to me, but I'd hardly call myself an expert.