Search me. Here's what's been suggested by those credible:
Quote:
The approximate stand-still of global temperature during 1940-1975 is generally attributed to an approximate balance of aerosol cooling and greenhouse gas warming during a period of rapid growth of fossil fuel use with little control on particulate air pollution, but
satisfactory quantitative interpretation has been impossible because of the absence of adequate aerosol measurements
...
(
http://www.columbia.edu/~jeh1/mailings/2013/20130115_Temperature2012.pdf
)
In other words, nobody was looking for or measuring sufficient global levels of that atmospheric aerosol data, and so now we don't have a way of determining what those aerosol levels were nor precisely their source.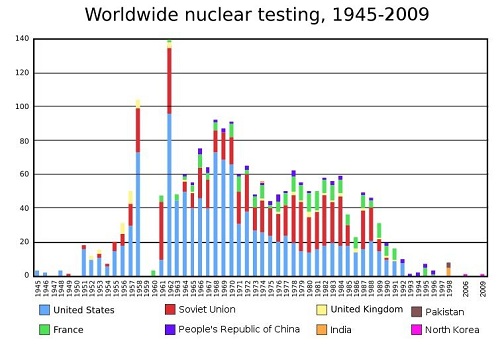 Myself, I've often wondered if all that surface nuclear weapons testing had an impact on atmospheric aerosol level, like so many man-made volcanic explosions...
Quote:
The conditions during the northern hemisphere summer of 1816 were the result of the largest observed eruption in recorded human history, one during which global temperatures decreased by an average of 0.53 °C, and related human deaths were reported to be about 90,000. The importance of volcanic eruptions during this anomaly, specifically the eruption of Mount Tambora, cannot be overlooked. It is the most significant factor in this important climate anomaly across the globe.
(full article)
https://en.wikipedia.org/wiki/1815_eruption_of_Mount_Tambora#Disruption_of_global_temperatures