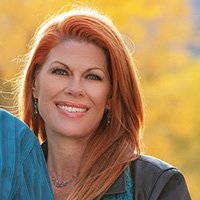 Stacy McFadden Henn
I first discovered paper cutting as part of my scrapbooking hobby, about 15 years ago. An avid scrapbooker,
I was featured in many scrapbook and paper craft magazines and won several contests featuring my paper cutting skills.
In 2005, I was honored to be chosen as a member of the Creating Keepsakes Hall of Fame
(yes, there really is a Scrapbook Hall of Fame!) where one of my winning entries dubbed me as the "Exacto Queen".
I don't do much scrapbooking these days but I've recently dusted off my exacto knife and rediscovered
my love of paper cutting. I enjoy cutting words and quotes, making fun paper sculptures and boxes,
and creating unique paper-pieced wall art. I have training in graphic design, package design and typography
and I often use these skills in my projects.
I am proud to offer a unique selection of handmade art, gifts and products. In this day of mass-produced goods,
we begin to lose appreciation for items made by hand with care and personal artistry.
Contact me to see how I can personalize a product for you.
I deliver in Evergreen for $5.00 and ship anywhere in the USA!